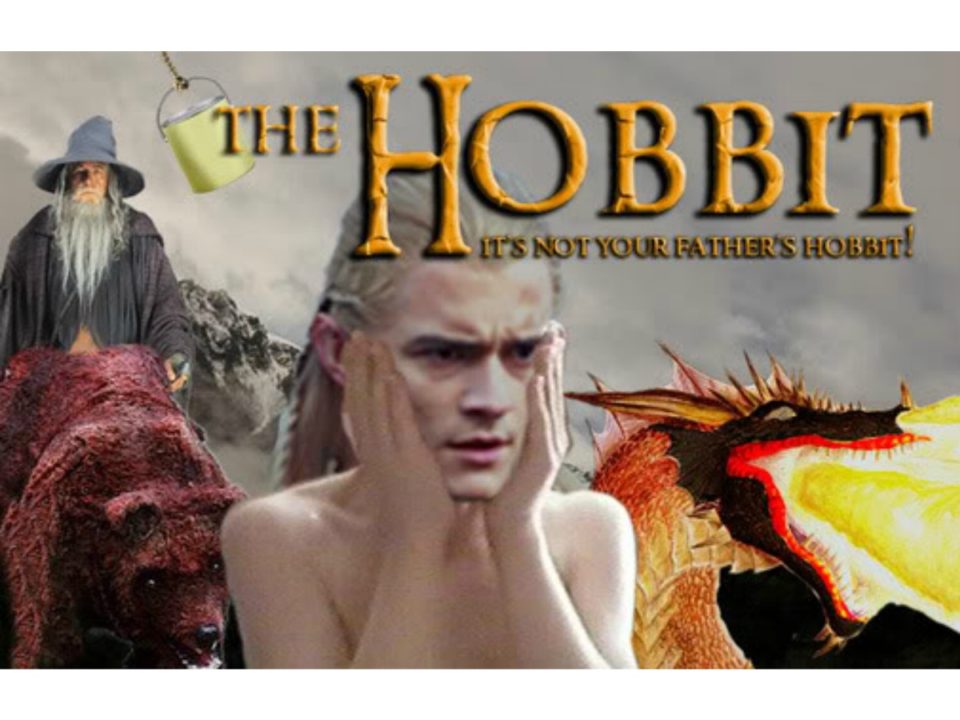 Everyone knows that I was a particularly vehement opponent of the Lord of the Rings movies.  My thoughts on adaptations are well publicized and they basically amount to the unyielding law that it is unconscionable to change even one line of the author's text.  And when we are talking about a master on Tolkien's level, well you can imagine my speechless rage to find out that they had decided (to name one of a countless number of grievances) to portray Gothmog, Lieutenant of Mordor as an orc even though his name is obviously Sindarin in origin and therefore he obviously could not be an orc!  And don't even get me started on that winged Balrog…
Anyway, with the painful experience of watching my favorite book in the world getting "Hot Carled" for 12 straight hours fresh in my mind, it was with a great deal of trepidation that I greeted the news of a Hobbit movie.  And it appears that my initial fears were founded as more and more rumors have come in.  The rumors range from bad to awful, but some are so horrible that I fall asleep screaming each night wishing for the sweet release of my nightmares.  Of these I have selected ten of the most upsetting.  For those who think their constitution is doughty enough (we're talking 17-18 range here), read on to hear how many orifices the first part of the Red Book of Westmarch should start preparing for violation.
The 13 dwarves from the book will be changed to the much more popular and easier to remember 7 dwarves.  In an effort to embrace diversity the group of dwarves will consist of a fat one, a smart one, an asian one, a black one, a stupid one, an irritable one and a girl.  The black one dies at the hands of the trolls in the first 30 minutes.
Ron Perlman, contrary to the rumors, will not play Beorn.  He will play the female dwarf Oina who will serve as the love interest to Bilbo.  This casting decision made more sense when it was leaked that Oina will be bearded as per Tolkien's original conception of Dwarven women.
Bilbo will be represented as a teenage hobbit who must return from his quest before the weekend is over and his parents get back from their vacation.  Casting has narrowed possible actors for the role down to Robert Pattinson or Shia Labeouf.  Principal photography will commence on the  "cleaning montage" scene soon after.
Incorporating technology used in the film Little Man, Orlando Bloom will be transformed into "baby Legolas" and will help Bilbo and the 7 dwarves escape imprisonment at the hands of his father's Wood Elves through a variety of wacky homemade traps.
The "Attercop" spider song will be playfully scored by Oscar-winning songwriter Randy Newman.
After the popularity of "black-bot" in Transformers, Smaug will be portrayed as a jive talking dragon who wishes a motherfucker would try to steal his treasure.  Casting has narrowed possible voice actors for the role down to Chris Tucker or Robert Downey Jr.
The Battle of Five Armies will become the Battle of Ten Armies featuring Elves, Dwarves, Humans, Eagles and Unicorns vs Goblins, Spiders, Balrogs, Nazgul and Dementors.  It will take up the final 90 minutes of the movie.
The upcoming novelization of the film will be written by Stephanie Meyer and will be titled "The Hobbit".
As a nod to the newly popular (post Harry Potter) "gay wizard" archetype, an unrated European version will be released with an extended furry sex scene between Gandalf and Beorn in his bear form.  In an effort to make sure it is tastefully done the studio has contacted Zack Snyder, director of 300 and Watchmen to direct the scene.
Tagline: This isn't your father's Hobbit!