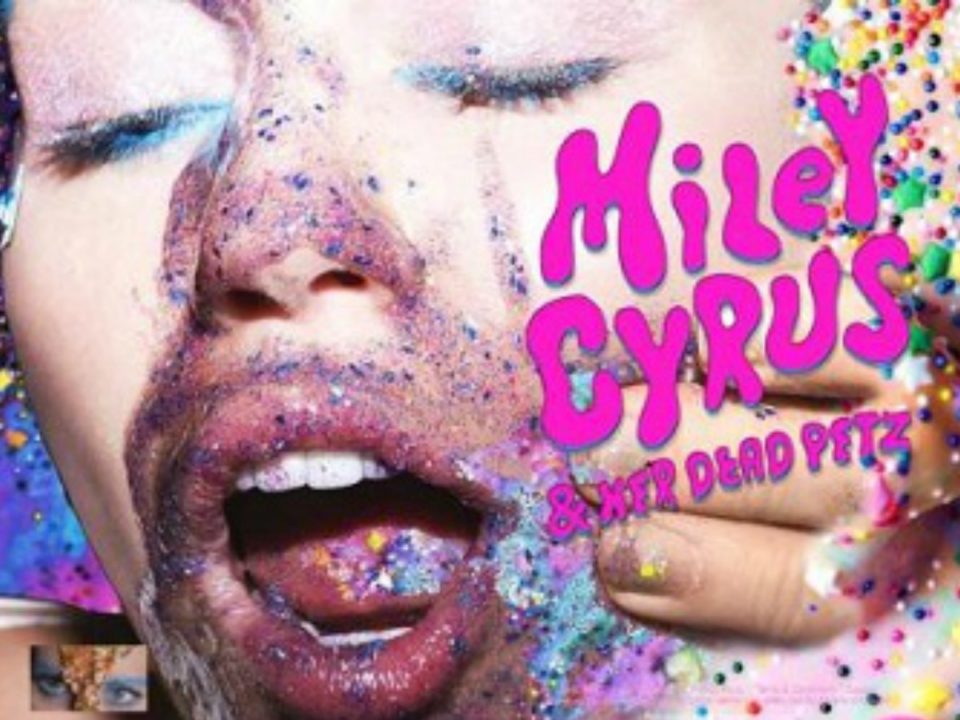 Welcome back to my most infrequently occurring Monday feature!  I'm speaking, of course, of Infrequently Occurring Fifth Monday (IO5M), where I come up with a new "top 5″ list on a quad-yearly basis.
So, apparently, last night, Miley Cyrus, in addition to hosting the VMAs, dropped a brand new album on her legions of casually interested fans.  Despite owning my own pop patch vest, and despite having actually seen Miley in concert, I was unaware that she even had a new album in the works.  Putting my exploration of the new Iron Maiden album that just leaked on hold, I jumped right in to the 23 track, 90 minute monster that is Miley Cyrus and her Dead Petz in order to see if I could find enough songs I liked to fill up today's list.
First, I should say, this album shows a remarkable creative progression from anything she has done before.  She's actually branching out and taking the music where SHE wants to take it, and I really have to hand it to her because that is a ballsy move.  Of course, few people have the talent to pull of a 23 song, 90 minute album, and, like Ildjarn, Miley just isn't up to the task.  Hell, this fucker has more filler on it than Rihanna's entire discography.  Her new "slightly more dancy Lana Del Rey" sound is actually pretty good, if not half as brilliant as LDR herself, and, while there are some catchy tunes on MC&hDP, there is nothing that even remotely comes close to being as big an earworm as her best (albeit soulless and manufactured) pop moments.
That said, there were at least enough songs on this album for a seriously above average EP, and here they are in order from least best to best:
Honorable Mention: Dooo it!
This should probably be ranked a bit ahead of the Lana del Rey worship stuff, but it's not really so much a song as it is a scattershot collection of a few cool ideas.  Still, the part where they "drop the synth" 50 seconds in really fingers my heart like few things in the realm of music are able.
5. Bang My Box
Speaking of heart fingering, while this album might, musically speaking, be an artistic progression, lyrically I can't claim that Miley has exactly progressed by leaps and bounds:
What are you doing me
It's like you're a zookeeper setting animals free
You release me like a tiger that's been locked in a cage
Here I am, here you are
I want it so hard
You finger my heart
Heart-fingering aside this has a nice minor key Lana del Rey vibe–or maybe it's a Flaming Lips vibe, I wouldn't know as I'm not familiar with their oeuvre (though, apparently the main guy from The Flaming Lips wrote…er "produced" most of this album).  I've always figured I would hate them…though, if they sound like this, I have a feeling I could at least tolerate them–in much the same way I tolerate (secretly kind of like) this song.
4. Tiger Dreams
This song was a bit more like it.  Tiger Dreams sounds less like what I imagine The Flaming Lips to sound like, and more like what I imagine someone trying to sound like Lana Del Rey would sound like–and I guess that's good enough for me.
3. Cyrus Skies
Here we go with more "poor-man's Lana del Rey," but, this is a good deal darker and more melancholy than "Bang My Box," and a better written song than "Tiger Dreams," thus it gets ranked a bit higher than both.  Mellow, downtempo, and honestly pretty much completely successful at evoking exactly the melancholy atmosphere it is attempting to capture.
2. Evil is but a Shadow
Starting with a cool (almost Bladerunner-feeling) synth line, this is a nicely epic (hell, even a little euro-folky) song that is just one step removed from the kind of thing a black metal band might put on an album as an intro.  While the song is pretty sweet, it might only be ranked this high due to those little medieval sounding oboe synth melodies.
5. 1 Sun
"1 Sun" is the danciest song on the album and possibly the best.  As with the rest of my favorites, this is some reasonably dark shit, with a nice driving bass line accenting the electronica roots.  Like I said in the intro, sure, this doesn't hold a candle to "legitimate" manufactured pop classics like "Who Owns My Heart," but as a petulant bit of "raw indie" pop written by an immature (in every sense of the word) artist desperately trying to prove she can "do it herself," it is not without its own scuzzy charm.  Just, whatever you do, try to ignore the trite "save the planet" lyrics.
Once again, if you want a quick "Best of the new Miley" playlist (but don't want to be bothered clicking play for each new song), I've got you covered: