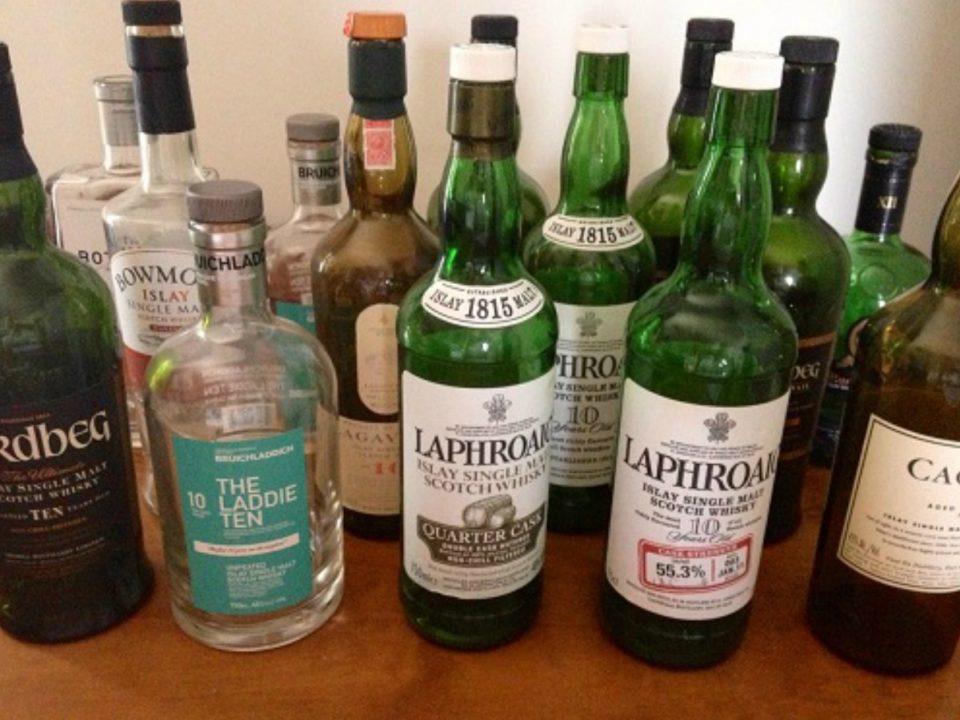 Welcome back to my most infrequently occurring Monday feature!  I'm speaking, of course, of Infrequently Occurring Fifth Monday (IO5M), where I come up with a new "top 5″ list on a quad-yearly basis.
Today I'll be looking at some of my all time favorite Scotch whisky from the Scottish island of Islay, the best of all Scottish whisky producing regions.
I've always been a beer guy/snob, but in recent years I discovered how brilliant single malt Scotch whisky can be.  Though the only two ingredients are water and malted barley, the range of flavors, smells and excreted esters is really pretty astounding.  Some Scotches taste like honey, some taste like grass and some taste like band-aids and rotten leaves mixed with swamp water in an old ashtray full of cigarette butts.  Guess which kind I've decided is my favorite??
The basic idea is that on the remote island of Islay (pronounced Eye-luh), fuel for fires was very scarce, so the old whisky producers on the island would cut bricks of peat moss out of the island's bogs and burn that in order to dry out the malted barely before they made it into whisky.  Thus, the Islay Scotch became known as one of the most heavily peated of all Scotch whiskys, as the barely malt became infused with an overwhelmingly strong iodiney/peaty swamp water flavor.  And since I like anything that has an overwhelmingly strong flavor I was bound to become a big Islay whisky fan (not to mention the fact that the region has a great name).
Other Scotch producing regions, of course, make peated whisky (Springbank's Longrow is a particular favorite of mine), but the real heavyweight producers of the style can be found on Islay, and thus, I will focus on Islay whisky for today's IO5M list.
I have factored price into all of my picks today as well, partly because I haven't tried much high dollar scotch, and partly because a single malt Scotch habit is already probably too expensive for me (expect to spend at LEAST $40 to get a decent bottle of any Scotch). Every pick from today's list can be found for $40 to $50 if you look around.
There are 8 producing distilleries on Islay, and I've only picked bottlings from four of them for today's post.  Here's a quick word on the distilleries that didn't make it to this list:
Bowmore – Bowmore is a solid Scotch, but of the three bottles I've had (Legend, their "cheap" 7 year old, the 12 and the 15) they always struck me as rather pedestrian.  Not incredibly smokey, peaty or otherwise, just kind of middle ground peated scotch.  Perfectly fine for what it is (I probably prefer the 12), but there are definitely better options from Islay.
Kilchoman – This is a brand new distillery, and as such, they've only released some random 3 and 5 year samplings of their product.  The 3 year old (the minimum amount of time that Scotch must be aged) that I tried was great and gives me high hopes for their mature product.  You could also taste how young it was, and for $80 that didn't make it a great buy.
Bunnahabhain – The 12 year from Bunnahabhain is a very lightly peated Scotch (considering it was from Islay), and the flavor really wasn't my thing.  It ended up growing on me to the point at which I really enjoyed the last of the bottle, but overall it was a bit too "basementy" tasting to really recommend.
Lagavulin – Ron Swanson's favorite scotch, the Lagavulin 16 really is very good.  However, in Kansas you'll pay around $90 for a bottle, and for that price I'd much rather get two bottles of anything from my top 5 which I feel are just as good if not better.  I hear the 12 year old is even better than the 16 (attempting to keep up with the demand for the 16 affected the quality even though it is aged longer), but it's also more expensive, so I guess I'll never know.
And now, with the losers out of the way, on to the list:
5. Caol Isla 12
This is a great Lagavulin substitute for the price (~$50).  Very smokey, and with just an all around delicious flavor, a bottle of this is high on my list of bottles to re-purchase.  If it has a drawback, it's not the most complex scotch on this list, and lacks a bit of Lagavulin's peat bite, but it's still a definite step up from Bowmore.
4. Laphroig 10: Cask Strength
In theory this is just a more highly concentrated version of the standard 10 year old Laphroig (which is also great).  And yet it tastes completely different, an incredibly intense blast of campfire smoke and strong peat that will so overwhelm your taste buds you will almost get a bitter coffee taste to it.  At almost 60% abv, this will numb your tongue a bit and thus you will lose some flavor without a bit of water, but definitely give it a shot neat, it's like nothing else you've ever had in your mouth.
3. Laphroig: Quarter Cask
Laphroig markets itself as "the most richly flavored of all Scotch whisky" and they really aren't kidding.  None of their bottlings are for the faint of heart. This is probably my favorite from them.  Though it doesn't have an age statement (and is assumed to be only around 8 years old), using a cask a quarter of the size of a traditional cask puts much more of the scotch in contact with the wood and thus it actually tastes much more complex than it actually is.  It's close, but it edges the regular 10 year old for me (and at around $50 is close on price), and has a lot more bite than the overpriced 18 year old.
2. Bruichladdich: The Laddie 10
Bruichladdich was a distillery that had closed down and only recently reopened.  This is the first bottling that was aged 10 years from only their own new stock of malts and it is amazing!  Though it is completely unpeated, this is still a pretty intense malt (and, I still taste a bit of peat, probably from the water they used).  Salty, intense, and with an almost fruity edge to cut the seaweed flavors, this is an impressive malt and I look forward to seeing what they come out with in the future.
1. Ardbeg 10
Ardbeg was another distillery that temporarily ceased production until fairly recently.  However, since they have reopened, they've produced many of the best peated whiskys out there.  While they get a lot of buzz for their 6-8 year old "no age statement" special cask strength bottlings like Uigeadial and Corryvreckan, those are usually overpriced (around $80) and honestly, not as good as their simple 10 year old base whisky.  As peaty as Laphroig, but without the unpolished edges, this is probably the one bottle I always want on hand and is as perfect as peated whisky can get.
Sure, even with this one, if you even open the bottle around company you can expect to see them gag and cover their noses while asking if someone broke wind, but, if you are worried about that kind of thing, then you really shouldn't be drinking Islay whisky in the first place!