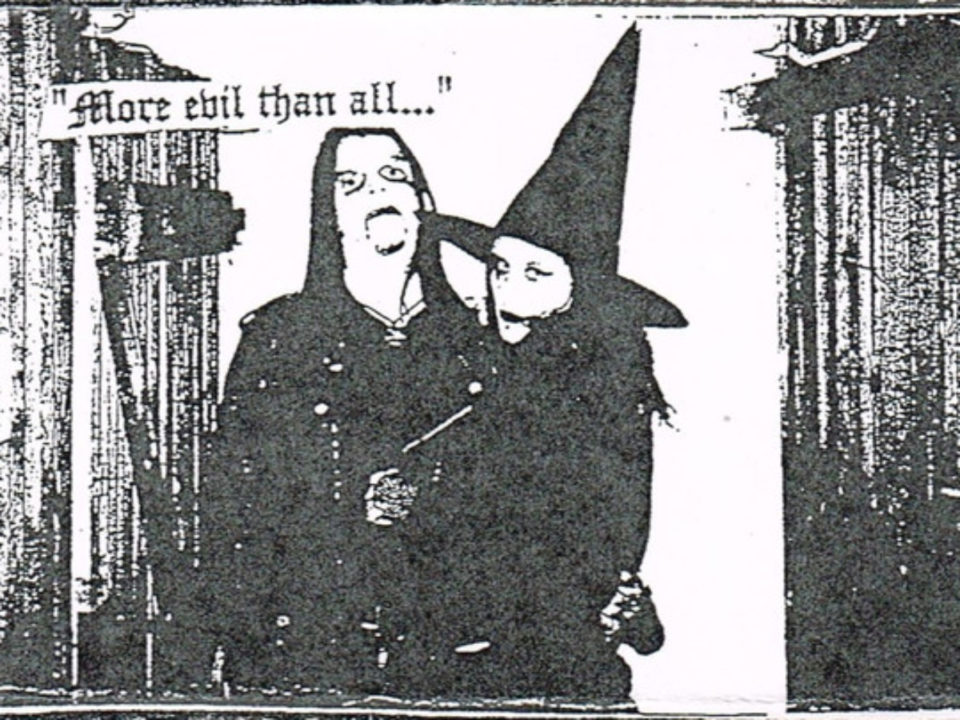 I am fully aware that even the "frightening" black metal outfits are mostly just kind of silly and impractical (depending on how extreme they go with the carpentry nails). But, if you can buy into it a bit (as you must to appreciate black metal in the first place), all the nails and bullet belts actually look kind of cool.
Today's post is going to look at the outfits that circle past cool and ends up right back in the basement all this stuff started in. Read on to discover the least grim and frostbitten fashion choices an aspiring black metal musician can make.
Jean Jackets
Jean jackets, as a rule, are pretty cool [according to this jean jacket wearer], but there is something about a jean jacket that just doesn't scream EVIL. It's the Dead Can Dance rule: "If something can be appreciated by both you and your mother, it can still be cool, but not KVLT."
Bonus penalty points if it is acid washed–I know Beherit were basically children in this picture, but, come on!
Gimp Suits
This one could go either way, after all, you can't spell DSBM without BDSM, but as a general rule, the closer your outfit is to a gimp suit, the closer you are to looking like you belong in the wrong kind of (in black metal terms) dungeon.
Of course, Ivar from Enslaved going with the whip here also doesn't help. Though, if you were wondering, Grutle's helmet is perfectly acceptable in (black metal terms).
Being the Only One Not in Corpse Paint
Much like being the only person NOT hanging dong on the cover of your album, being the only person not wearing corpse paint is just kind of awkward. Even without the ridiculous expression on Abbath from Immortal's face, corpse paint is already pretty silly. It's even more so when contrasted with someone NOT in corpse paint.
Get with the fucking program Armagedda.
Brandishing Tiki Torches
This happens more than you think, and it's always a serious let down. I can't imagine it is all that hard to make a real torch, and yet, somehow, tiki torches keep making their way into black metal photo shoots.
I'll give a pass to the ridiculous expression, the chopping knife, and the mask (an acceptable exception to the "everyone needs to be in corpse paint" rule), but that tiki torch mars an otherwise fucking excellent Vlad Tepes album.
Wearing a Witch Hat
Somehow this keeps happening–everyone is getting suited up for a photoshoot and one band member, drunk on cosplay power, grabs a witch hat. That scenario makes sense at least–I mean, who HASN'T gone too far while dressing up for a black metal photo shoot?
But to see the photos the next day and still decide to use them? I'm not sure how that happens, but I guess I'm also not sure how something like the "Call of the Wintermoon" video gets made non-satirically in the first place: