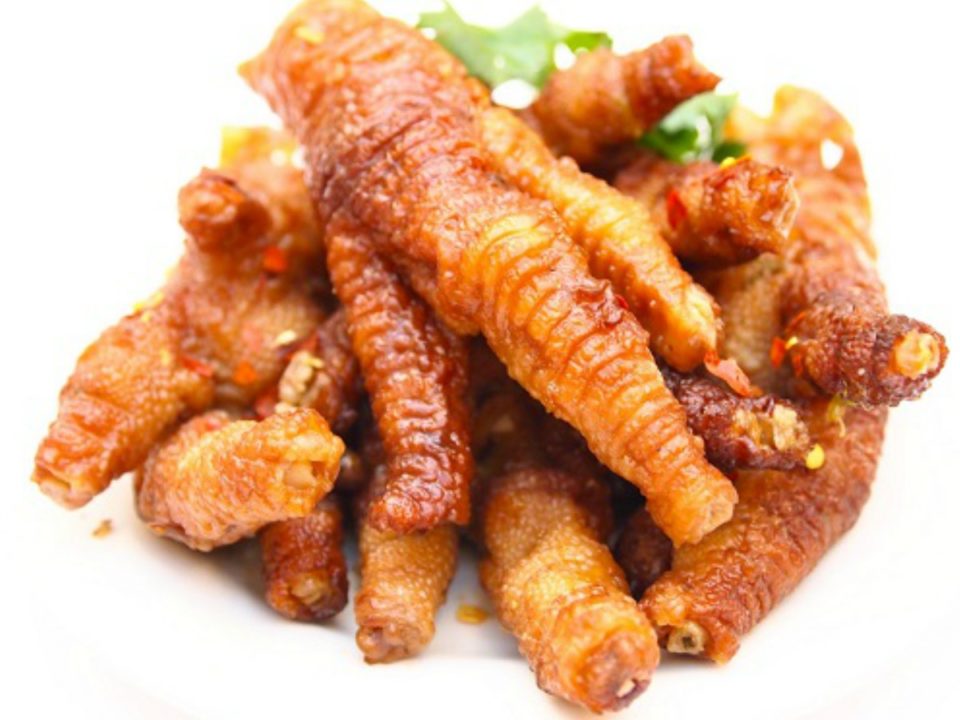 Welcome back to my most infrequently occurring Monday feature!  I'm speaking, of course, of Infrequently Occurring Fifth Monday (IO5M), where I come up with a new "top 5″ list on a quad-yearly basis.
Ok, so, I know the Native Americans supposedly used every part of the buffalo, and I know there are starving kids out there that would love to have those end crust pieces you know you secretly just throw away from your bread, but I'm here today to try to curb some of the more extreme examples of culinary conservation that I've come across in my time.  After all, this is AMERICA, where recycling is for pussies, our aquifers are for watering our lawns, and, goddamnit, if we want to just go ahead and throw perfectly good food away, we'll go ahead and do it!
Facetious patriotism aside, every item on today's infrequently occurring top 5 list is on the list for a reason.  These are not examples of "frivolous waste," but rather "gross shit that people need to quit cooking with." So, without further ado, here are the top 5 parts of your food that, seriously, wtf guys, why are you trying to cook with that, throw it away!:
5. The Cucumber Tip.
So, even a barbarian would know not to put the stem tip of the cucumber into a salad, but too often people seem to think that the non-stem tip is perfectly fine to use in whatever you happen to be making with cucumbers.  Because, yes, a slice of cucumber that is extra dense and all skin is exactly what I want to eat.  I live by two rules in my life: don't fire until I can see the whites of their eyes, and don't use a cucumber slice  until I can see at least one seed, fetal or not.
4. Kale Stems.
If you make kale/collard greens/etc, and you don't do the thing seen in the above picture, you have done it wrong.  Sure, the kale stem, like every other item on this list is perfectly edible, but come on!  Kale is gross enough without having to choke down a thick, chewy kale stem with every bite.
3. Chicken Tender Tendons.
So, I know these things are annoying to remove, but just look at that picture.  Biting into a chicken tender that you were too lazy to detendonize is like finding a rat tail in your chicken finger–sure, you could just chew your way through it, but it's not going to be a pleasant experience.  So, I don't care if the chicken isn't all the way defrosted and your fingers are numb–get rid of those tendons!
2. Canned Salmon Spine.
I keep hearing people claim that the spines in canned salmon are good for you, but I don't care if they are made of quinoa infused acai berries, I don't want to eat spine bones that have soaked in a can of nasty salmon parts until they ended up taking on the consistency of mushy chalk.  Hell, canned salmon is gross enough as it is, do we really need to leave the spine bones in when we make our poor people hamburgers, AKA, salmon patties?
1. The Ass of the Onion.
My mother is a great cook.  Unfortunately, she also doesn't like to waste food ever. If she could figure out some way to make a dish out of eggshells and apple cores, she'd be all over that like unidentified gelatinous goop in a can of Salmon.  Because of this, I've caught her trying to cook with the "ass of the onion" more times than I care to think of.
See that nasty solid yellowish-white thing right at the bottom?  When cutting an onion, you need to guess where that thing ends, then give yourself another half inch to be sure, and then cut the entire bottom off of the onion.  Throw it all away, don't even think about trying to salvage usable onion bits from it.  Because, if you do, you'll inevitably end up accidentally chopping some of the ass of the onion into your food.  And when that happens, I'll inevitably be the one that bites into that solid chunk of onion-flavored wood, throws a big hissy fit, and then writes a scathing blog post about the whole experience.