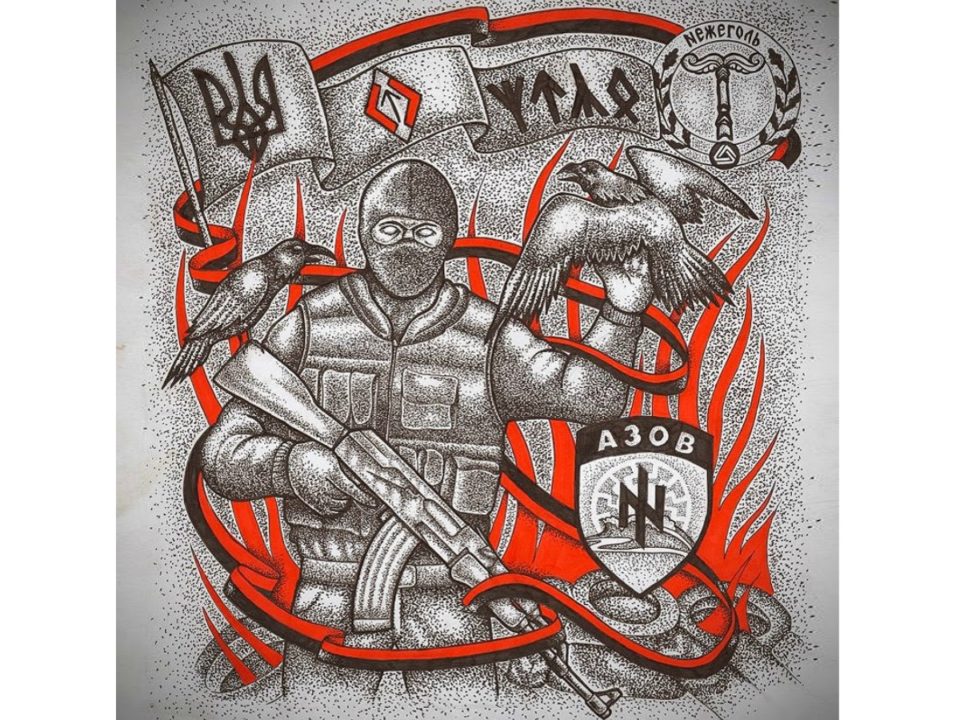 Welcome back to my most infrequently occurring Monday feature!  I'm speaking, of course, of Infrequently Occurring Fifth Monday (IO5M), where I come up with a new "top 5″ list on a quad-yearly basis.
I can sometimes sail some dark waters in my quest for new, shitty-sounding underground metal.  And it's not a secret that some of the bands that swim in those dark waters can paddle pretty far to the right.  However, unlike the metal underground's clear and unambiguous love for our Dark Lord and Master Satan™, many of these racist bands keep their affair with Hitler just a bit under the radar.  Maybe it's just so they can still sell their albums in Germany, or maybe it's because they are trying to sneak a bit of stealth racism through to unsuspecting metalhead consumers, but, whatever the reason, it can sometimes be tricky to figure out if that new band Pagan Blood Hammer that you just discovered might also happen to be a wee bit racist.
So, today, I've put together a helpful list of the top five signs that the underground metal band to which you are listening might be a little racist.  I'm not talking about bands that wear their racism openly in their horrible band names and song titles on albums peppered with swastikas and poorly photoshopped collages of Nazi troops marching through mass graves.  Instead I'm trying to focus on those bands that try to disguise their more troublesome ideological leanings from the unsuspecting layman.  None of the items on today's top five list are iron-clad signs of a band's racism, but in a metal underground that knows full well the value and power of symbols, I'd say that a band that adopts any of the items on this list in their imagery might at least have some problematic views on immigration.
5. They overuse the word "pagan."
Now, to be fair, on this one especially, there are thousands of, in theory, non-racist underground bands whose music is full of references to "pagans."  In fact, people who organize knitting circles in forests and self-identify as "pagans" FAR outnumber Nazi black metal bands.  So, while they are, obviously, not *ALL* racist bands, it is widely known that calling one's music Pagan Metal™ is basically super secret underground metal code for "whites only."  Don't go getting the torches ready for the new Pagan Altar album, but if you see the "pagan" buzzword, your nazidar should at least be giving you a small warning blip.
4. Firearms and brass knuckles feature prominently in their imagery.
Swords, bows, trebuchets: all perfectly acceptable in the extremely nerd-centric metal underground.  Guns, baseball bats, brass knuckles: there is a good chance that these items are not used solely for LARPing purposes.
You might think that this one would get confusing with the amount of country bands that also brandish firearms on the covers of their albums, but, I'd guess they are probably just as racist, so this one still applies.
3. They use life/death/Odal/Tyr/Wolfsangel runes.
These all get grouped together because, for the most part, none of these symbols/runes seem specifically racist to those who are not "in the know." I mean, after all, runes are all badass and/or sweet to your typical Tolkien-obsessed metalhead, what harm could there be in runes?  However, if you see a band that uses any of the following symbols or runes in their imagery…you guessed it–they probably didn't just pick these runes because they thought they looked cool, but rather, because they are all heavily used by white power groups (as well as on that anus flag from Community)
Here are the most commonly used "hey, we're a Nazi band" runes:
Again, using an ancient rune in and of itself doesn't mean the band is racist (#notallrunes), but using THESE runes, more often than not, means the band members probably don't have a lot of minority friends.
2. They hide their face/eyes with balaclavas/black bars.
Racists have been hiding their faces long before the KKK popularized dressing up in pillowcases, but in the current metal underground, wearing a balaclava or otherwise editing one's face out of the band picture is a pretty sure sign that you have probably burned a cross or two at some point in your life (and not in a cool Satanic way).  Basically, if all the live shots of your band look like this:
Then you are either in the witness protection program, or, you have committed at least one hate crime in your time.
Also, this doesn't count corpse paint.  That just signifies that the band members are secret KISS fans.
1. They use symbols that are just a little too similar to swastikas for comfort.
Swastika's aren't exactly an underground symbol, you could have been raised in a basement your entire life and you'd come out knowing two things: That one Outcast song, and the fact that swazies are totally not cool.  Thus, if your album artwork looks like this:
…I don't care how innocent your intentions might have been, you know very well what that thing looks like.
Some like to cry out "but it's just a pagan symbol! I'm not using it in a RACIST way!" However, just like everyone had to quit wearing "Charlie Chaplin" mustaches after WWII, we, as a world, also kind of lost our right to use swastikas when that war ended.  So, sorry to pretty much every pagan (in the non-racist sense) culture out there (because almost all of them have some kind of swastika variation), but, Hitler ruined your symbols.  HE is the reason we can't have nice things like silly mustaches, crooked crosses, and manifestos written from jail cells.
So, with all this new information in mind, would anyone care to hazard a guess as to what kind of politics the PAGAN metal band Нежеголь might espouse, based solely on the cover of their new single "White Fever" that starts this post?