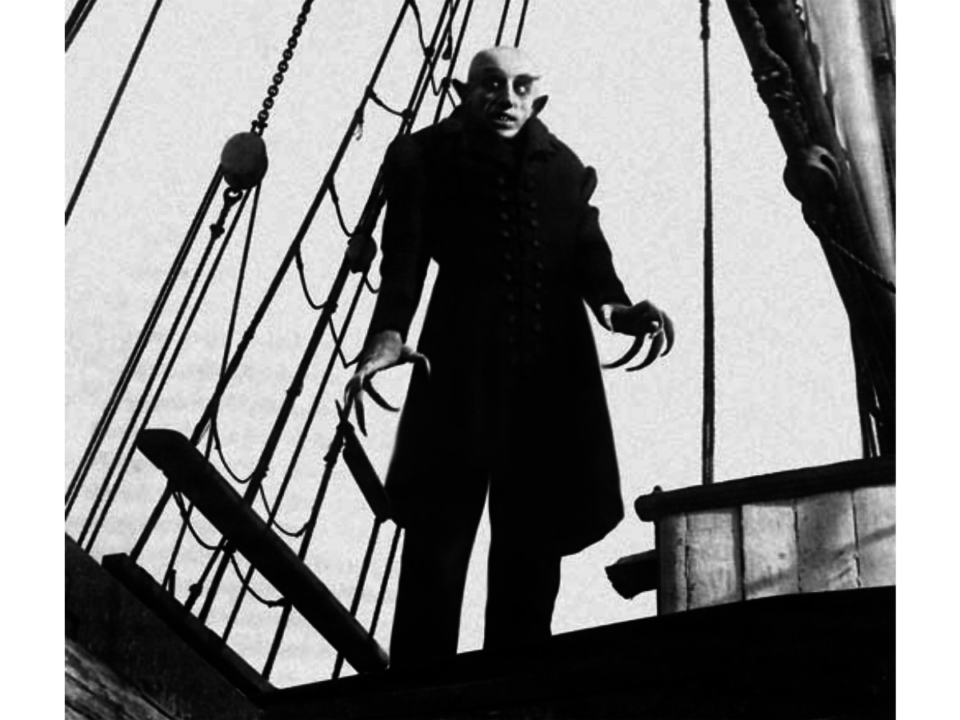 Welcome back to my most infrequently occurring Monday feature!  I'm speaking, of course, of Infrequently Occurring Fifth Monday (IO5M), where I come up with a new "top 5″ list on a quad-yearly basis.
Today, in honor of this year's Halloween costume, I thought I'd take a look at some of my all time favorite movie villains.  Now, obviously, the main reason for this post was so I could come up with a snobby list of movie villains where the average release date of the films is older than the Paramount decree.  I've said it before, they just don't make em like they used to!
Anyway, regardless of your thoughts on the Terminator's slighting, I'd like to discuss what *I* think makes a great villain.  I've come up with four elements that I was looking for while picking this list:
First of all, they've got to be totally badass and Evil (with a capital E).  Crazy (by itself) doesn't count.  If you are a whiny weakling with mother issues that stabs women who stay in your motel, you are not going to make my list.
Second, they have to be just on the wrong side of that thin line between human and monster.  They have to be a wild beast with a thin veneer of humanity being all that keeps the darkness from spilling over.  Or, for the more subdued approach, there at least has to be an untapped reservoir of unknowable malevolence and complete amorality lurking just beneath the surface.
Third, and perhaps most important of all, they have to have charisma.  The audience doesn't have to like the villain, but they should be unsettlingly drawn in by their sheer evil magnetism nonetheless.
Finally, unless your name rhymes with Derek Juan Broheim (see the previous entry), playing a German is just too easy.  And playing a Nazi that shoots Jews for sport is just doubly too easy.  In fact, playing anything that is too easy is just, well, too easy.
But enough of my yappin, let's get on with the list!
5. Erich von Stroheim from his WWI era silent films
Most of Stroheim's silent acting gigs were pretty deliciously evil villains (including a spectacular turn in the "My Favorite Movie honored" Foolish Wives).  However, the two anti-German roles he played for a pair of WWI propaganda films in the late teens were the acting gigs that forever cemented him in the public's eye as "the man you love to hate."  Until I get the clips uploaded to youtube myself, you can see the most famous scene of infanticide by defenestration (who says death metal doesn't increase your vocabulary?) in all of cinema here:
Some might claim that this one violates the too easy rule.  But that's what made Stroheim Stroheim; that fucker had charisma.  I mean, you can't really tell from that clip, and it might have been the charisma of a rabid dog in his "maniac Hun" roles, but audiences really did love to hate him, something Ralph Fiennes just doesn't have going for him no matter how many bad guy roles he takes.
4. Frank from Once Upon a Time in the West
What you may notice about a lot of these is that they are mostly (with the exception of the WW1 propaganda films) taken from great movies.  And if your villain just happens to be a part of one of the greatest scenes (thank you soundtrack!) in all of cinema, then he's obviously going to get a boost:
I wanted to say that Frank wasn't such a bad guy and only killed the kid because they used his name and he was forced to (I like to call it the "Jaime Lannister defense").   But take a look at his face right before he pulls the trigger.  Motherfucker positively relished that killing.  Not to mention what he did to Bronson's brother.  He fights with honor at the end, but there is something terrifying behind those eyes, something that makes him the best western villain of all time (followed by Walter Brennan in My Darling Clementine…something about good guy actors playing against type I guess!)
3. Vera from Detour
Vera is just a human.  She isn't necessarily insane, or otherwise afflicted.  But she is perhaps the single most pure force of malevolence I've ever seen in the movies.  She is a nightmare sent from the darkest corner of the protagonist's psyche.  Her sole purpose is to torment her victim until he is a broken shell of a man.  And the fact that she seems so very human makes her all the more frightening.
Just an example of the unholy venom that a chance encounter has let into the main character's life.
2. Frank Booth from Blue Velvet
I don't normally go for such over the top villains, but Dennis Hopper brought a whole new level of crazy to his portrayal of Frank Booth.  He's like that guy you run into that is obviously on all manner of strong drugs.  Even when he's acting normal you can tell the crazy is just seconds away from bubbling over the top.  He's the obviously drunk and weaving driver on the interstate ahead of you that you try to pass as quickly as possible before he careens into your car and sends you both crashing into a fiery inferno of destruction.  And most frightening of all, Dennis Hopper makes us believe it.
Here is the (in)famous introductory scene for Frank Booth:
As my distaste for the Girl with the Dragon Tattoo movies is evidence of, movies about rape are right up there with movies about the holocaust and social commentary movies on my list of types of films I prefer not to watch.  But, rapist or not, Frank Booth is one hell of a villain and Hopper's teetering on the edge of complete lunacy performance is probably the best of his career.  Of course he did tell director David Lynch "I AM Frank Booth" in a phone interview while lobbying for the part, so interpret that as you will.
1. Count Orlock from Nosferatu
Nosferatu has also received the "My Favorite Movie" treatment on this site, and for many good reasons.  High among its list of brilliant qualities is the performance of Max Schreck as the titular vampire.  Almost every other vampire movie of note has attempted to humanize Dracula to some degree (including the Herzog remake).  This is not exactly the case with Murnau's 1922 classic.  Nosferatu does appear human (despite the ears and rat fangs) and even seems to fall in love with Lucy.  But, as I pointed out in my earlier review, this human like behavior becomes all the more frightening when you realize that the otherworldly monster that inhabits Count Orlock's body is merely a simulacrum of human-like behavior.  There is in fact NOTHING human about Count Orlock, and this realization makes his human-like behavior raise the hairs on the back of your spine as if you had just seen a giant hairy spider unzip its human suit from the inside.
We'll go with this clip for now:
1922 and they haven't had a better movie monster since.  I told you they don't make em like they used to!