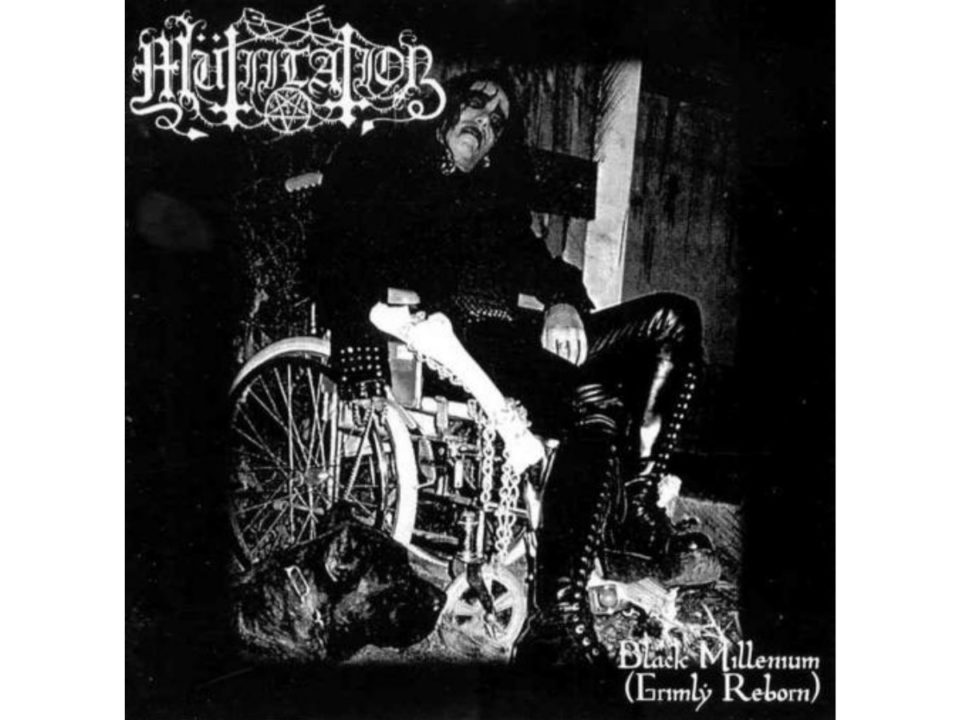 What with the decision to cross over the storylines of Goth, Jock and Snob blogs, a simple thing as writing Goth Blog 3 has turned out to be more work than I planned on. So, while I know I've been writing more about underground metal than most people want to hear about lately, here is a quick top ten post to make up for me not rappin' at you guys in a while!
Black Metal is a silly silly genre. I mean, really, making fun of the posturing of the Black Metal community is like shooting fish in a barrel. But the seriousness with which the "true" black metalers carry themselves really just makes creating lists like these too much fun. So thanks to the wacky antics of those adorable nihilists I figured I'd see if I could pick out my top ten song titles that made me giggle the most (song titles work great for extreme metal since no one can understand what they are screaming and you have to fill in the blanks in your head as to what the song is about). This turned out to be a lot tougher than I thought. I mean Black Metal song titles are by nature utterly ridiculous, so who's to say Darkthrone's "Flittermice as Satans Spies" or Emperor's "I am the Black Wizards" shouldn't be on the list (actually…those really both probably should be). But the whole point of listening to Black Metal is to suspend your snickering just a little bit. So sure, after I forgive the grammar, look up flittermice on google and realize they are probably "bats" which are kind of hardcore and that black wizards could be fairly evil I'll give the bands those song titles.
But sometimes the song title just doesn't quite work the way the band wanted it to. So this list is of my favorite black metal song misfires. They all have to come from bands who were seriously trying to come up with an epic evil grim song title and missed the mark. So stuff like Impaled Nazerene's "The Horny and the Horned" won't count here since they were (I'm assuming) trying to be funny. I am also focusing on that "Second Wave" of "true" black metal from the nineties since they were the ones who made the whole "no we really do worship death!" thing so cute. Therefore, modern "pop" black metal band song titles like Cradle of Filth's "Lord Abortion" won't count either since those bands don't "really" hate flowers and the sun and stuff.
But enough of my yappin! Let's get on with the list!
Honorable Mention – A Dar(f) Dream
(Veles – Night on the Bare Mountain – 1995)

Now, this song is actually called "A Dark Dream" which is a suitably epic song title for a black metal band. The problem is that the Olde English font that Poland's Veles used for this album makes all the "K"s look exactly like "F"s and ever since I got this album I can't help but giggle at the phrase "A Darf Dream".
I imagine the grim soul who wrote this song title (Blasphemous…though that may not be his Christian name) having some kind of hilarious "pronounce k's as f's" speech impediment that is the source of all his inner darfness.
10 – Black Metal War
(Graveland – Thousand Swords – 1995)

Ok, I am on the fence about this one. I mean, a "Black Metal War" just sounds so awesome, and this song is really good (yes, I realize "really good" is a subjective term). But then I start to think about it a little more. That's Rob Darken, everyone's favorite Polish racist pictured above, and looking through my Graveland collection, it quickly becomes apparent that the dude owns a lot more than just that one set of armor. Then I start thinking about what the rest of the Black Metal community looks like and I realize a real "Black Metal War" would probably go something like this:
9 – Unearthly Loose Palace
(Gehenna – First Spell – 1994)

I don't know if I'd really call this funny, but it makes the list since I have absolutely no idea what an "Unearthly Loose Palace" actually is. Now, Gehenna is totally sweet (not many bands could take cheesy goth-rock, meld it with Unholy Black Metal ™ and make it work, but they do)(yes, you guessed it, this is subjective too…I'll quit linking to the songs) but every time I look at this song I have to stop and try to figure out what an "Unearthly Loose Palace" is for the umpteenth time. Perhaps the foundations for the palace are unstable? Is it a palace of loose alien women? (Which I must admit is fairly metal.) I suppose I'll never know. Also, deduct a point for using "Palace". "Castle" is always more epic.
8 – Where Winters Forever Cry
(Summoning – Lugburz – 1995)

So Black Metal is all about sorrow. And winter is a great all purpose subject for a Black Metal song title. But sadly (in a grim way), when you make winter itself cry it just gives the literally hundreds of Grim Black Metal ™ fans out there decided less than grim (and actually rather confused) feelings. Leave it to Summoning, the nerdiest Black Metal band ever (as far as I know they are the only band to write a song entirely in the "black speech" of the Orcs of Middle Earth) to decide to go ahead and make winter a pussy.
7 – Drink the Poetry of the Celtic Disciple
(Vlad Tepes – March to the Black Holocaust – 1995)

Want to guess what country the black metal band that went ahead and greenlit this title is from? Yes, the French aren't doing themselves any favors in the rep department with the name of this song. Which is odd since Vlad Tepes is about as grim, brutal and unholy as Black Metal gets, but even they have their thematic missteps I suppose. I image the band, after a hard night of grave desecratin', coming back, changing into black turtle necks and heading out to the local Celtic bar to just drink up the poetry recitations during "Disciple Night".
6 – Unleashed Axe-Age
(Abigor – Nachthymnen (From the Twilight Kingdom) – 1995)

Long ago, at the tail end of the "Adze-Age", there was the brief lived "Axe-Age". It was a time where the "Axe" was the fundamental component of all tools and weapons. Wheeled carts were replaced by "Axe-barrows" and great advances where made in the construction of axe axes which were axes made entirely from other axes. It was all quickly over when people realized that the "Axe" was not the best component for tool construction.
5 – Frostdemonstorm
(Immortal – Blizzard Beasts – 1997)

This album is pushing the limits of Raw Black Metal ™, but I'll go ahead and use this song as my Immortal entry for this list (though all their song titles are rather silly). I can imagine the brainstorming session for this one:
Demonaz Doom Occulta – "Ok, let's think of fucking epic things for this song title…how about 'Frost'?"
Abbath Doom Occulta – "That's totally epic, so, check!"
Demonaz Doom Occulta – "Demons?"
Abbath Doom Occulta – "Check!"
Demonaz Doom Occulta – "Storms?"
Abbath Doom Occulta – "Eh, sure, check!"
Demonaz Doom Occulta – "Ooh, how about Frost Storms?"
Abbath Doom Occulta – "OMG, yes. Check!"
Demonaz Doom Occulta – "Frost Demons?"
Abbath Doom Occulta – "Hmm…I don't know…sounds a little D&D-ish…"
Demonaz Doom Occulta – "Wait a minute…are you thinking what I'm thinking???"
Both together – "FROSTDEMONSTORM!!!!"
Surprisingly (and sadly) this turns out to be just a regular black metal song, and not "It's Raining Frost Demons" set to the tune of "It's Raining Men".
4 – My Soul, Blood, Will be Dripping
(Nergal – The Wizard of Nerath – 1995)

So yeah, Black Metal song titles that sound like newspaper headlines make me giggle about as much as making up things like "Axe-Ages" and "Frostdemonstorms". I think the so/so Greek Black Metal band Nergal actually stole this title from an Onion Headline: "Area Man Reports Soul, Blood Dripping". Also, dripping blood? Brutal. Dripping soul? Ew. …and wtf?
3 – Possessed (by Satan)
(Gorgoroth – Antichrist – 1996)

How much do I love this song (title)! I mean, there is a (giant) upside down cross on the front cover, but (in case you were unsure) this was no possession by the (holy) spirit. I mean, who doesn't like a good parenthetical song title, they are (kind of) a rock institution from "(Don't Fear) The Reaper" on (and probably before). Bottom line, this is the most adorable use of a punctuation mark (since that comma after "soul" in number 4) on this list.
2 – The Eggs of Melancholy
(Mütiilation – Black Millenium (Grimly Reborn) – 2001)

Ok, this is really close to number one on this list for all sorts of reasons. I mean, to start this was the first full length album from Meyhna'ch, aka, The Dark Wizzard of Silence, aka The Melancholic Lord of Torments, aka William Roussel since he faked his own suicide. And yes, that is him in the wheelchair in the main picture for this post, the supposed result of his suicide attempt. The only reason it's at number two really is because this album kind of sucks (at least compared to the old Mütiilation stuff).
But let's cut to the chase here. The Eggs of Melancholy? Srsly? That's like calling a song "The Black Asparagus of Satan" or something. I imagine all of William's hatred for the world stems from the time he got "sunny side up" confused with "over easy" at a restaurant. Or maybe that is just the source of my own melancholy…perhaps this song speaks to me after all!
1 – The Crying Orc
(Burzum – Self Titled – 1992)

Oh Count Grishnakh, aka, Varg Vikernes, aka Kristian Vikernes, you are a far more adorable fascist than those Polish guys. Naming a song "The Crying Orc" has got to be the cutest title in Black Metal. Oh wait, Black Metal isn't supposed to be cute? Well too late Kristian, because you ended up being the inspiration for the poem I wrote for Goth Blog 2. I can only assume that this was the scenario going through your head when you came up with that doozy of a song title, with out further ado, here is my poem based on your song title:
THE CRYING ORC
Baseborn am I, servant of the dark,
To toil unceasing, in eternal thralldom.
Never to rest, before the red mark,
I trudge on through the night, my soul weary and numb.
My thoughts fall back, to a time long past,
When I walked with Glargha, upon Nurnen's dark shores.
Frenzied couplings, carnage unsurpassed,
What was and what could be, lost to the Dark Lord's wars.
Now as I march, chasing the battle scent,
I wish that Glargha too, had taken up her spears.
But twasn't to be, and so she was sent,
To fill the breeding pit, while I shed my black tears.
Finally, because these songs are all (debateably) classics, here is a handy playlist of ridiculously titled black metal for your listening pleasure: