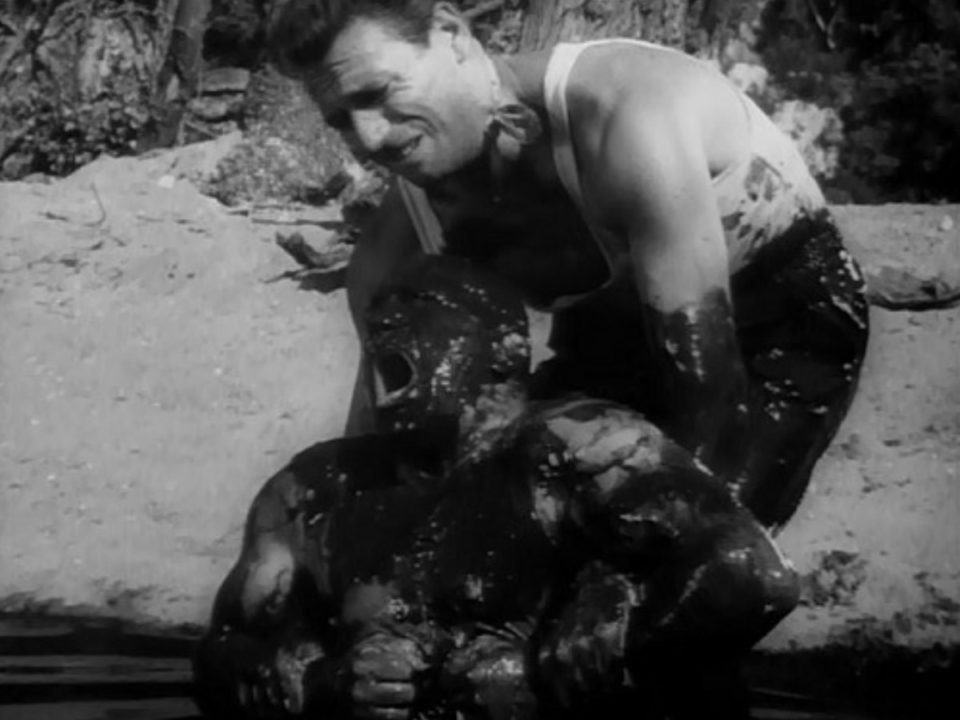 Having recently seen Wages of Fear for the third time, I have to say it is just as intense as the first time I watched it. This is really one of the only movies that literally makes me breath a sigh of relief once it is over (a few seconds after the "FIN" is also the point where I realize just how tense my body is and begin to relax)
Without giving too much away, it is basically the story of people living in a destitute South American town. Some of them take a job driving trucks full of Nitroglycerin 300 miles to put out an oil fire. And the hilarity ensues.***
Lets just say that the suspense (from driving a truck that could blow up at any second) is very well done…one of the best suspense movies ever in fact. There is definitely an art to creating a suspenseful movie no matter how easy your plot makes it for you.  And lets just say that Clouzot is working at Hitchcocks level for this movie.  In fact, the direction is flawless throughout (check out the showdown between two of the characters in a bar in the first half of the film for a perfectly directed scene).
That leaves us with the brutal cynicism/pessimism/nihilism that pervades the movie. Clouzot has always been pretty damn un-French (to stereotype the French for being positive optimistic moralists…which is pretty much not true) for a French director, and the other movies I've seen from him (Le Corbeau, Diabolique, and Quai des Orfevres–I probably would rank them in that order too, with Wages first) have also always been pervaded by an pretty misanthropic attitude toward our "fellow man". Like Faust, the characters in Clouzot's world are always striving for more, never satisfied with what they have, always unfulfilled. But they are not rewarded for this very human trait like Goethe's Faust, they are merely shown to be the agents of their own demise. Drawn deeper and deeper into a mire of their own making until they end up tearing not just themselves, but each other apart in their own helpless spiral of self destruction.
I hate movies with a "message", and I'll admit that I can see an argument being made that Clouzot "lays it on a bit thick" in this movie, but I sure lapped it up with a spoon. I don't think Clouzot is saying, "this is what I think humanity is like, will always be like, and you should think so too and that is why I made this movie" He is not concerned with making us share his beliefs about humanity, but rather with giving us a picture of what a world made in his vision would be like. A subtle difference perhaps, but I don't feel preached to when I watch a Clouzot film, rather I am drawn into his nightmare reality like a fly to…fly food.
Or maybe I just have some sick and twisted gene that makes me love a movie like Wages of Fear and makes the final scene of Rashoman knock it off my top Asian films list. People figuratively tearing each other apart like animals? Sweet! People realizing their basic human goodness and saving babies? *Gag* But that's just me I guess. I will say that Pather Pachali is one "humanist" movie that I can take (barely…and mostly because it is so well done), but even there, by the end of the third movie in the Apu trilogy, I'm sick of it.
Heh, and of course *I* like babies and kitties and fuzzy things, I just don't like watching movies about them.
***And in case you arent familiar with the "and the hilarity ensued" statement (since I tend to use it a lot), it was first uttered by good ol Arnold Schwarzenegger (on Letterman I think). He was promoting his "smash hit holiday classic" Jingle all the Way, and Letterman asked him what the movie was about. Arnold said (and I quote): "Well, in the movie there is this toy that all the kids want. Sinbad wants to get it for his kid, and I want to get it for my kid, and the hilarity ensues!"