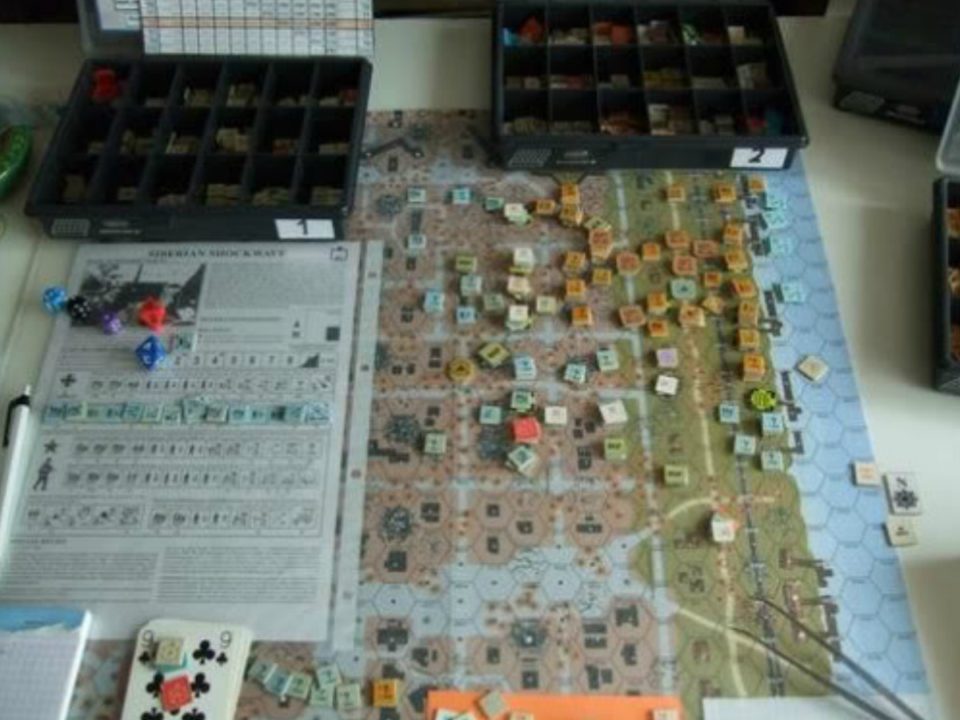 I've talked about board games before, and in that post I discussed how there are a ton of games out there with simple rules, short playing times and fun strategic choices that are all far better than the "roll the dice and move" games you find at Walmart.  Well, this post will not be about those games, today we'll be talking about war games, and if you want an example of how much fun your typical war game has sucked out of your innocent "board game", look no further than the fact that most war game adherents prefer to call them "consims" (conflict simulations) rather than anything with the word "game" in it.
So, today we'll be leaving the land of having a good time hanging with some friends around a table and entering the land of bearded middle aged history buffs squinting at enormous maps covered in tiny counters in their basements. Abandon hope all ye who click "more".
Of course, there was a  bit of hyperbole in that intro.  Wargames do not have to be tedious experiences to test the limits of one's eyesight and patience.  Everyone has probably had some experience with Risk after all, and in some forms (ie, those that keep it from dragging on for hours) Risk can be a decent social game that is still technically a "war game".
However, on the other end of the spectrum from Risk is Advanced Squad Leader, a ridiculously overwrought simulation of tactical (counters represent from 1 to 12 soldiers) World War 2 combat that has (literally) tens of thousands of counters and rules (in its 200+ page rulebook) for everything from interrogating prisoners to cellars collapsing if you drive a tank into a building.  Of course, most war games will fall somewhere between Risk and ASL and they all simulate some kind of armed conflict with varying ratios between abstraction and complexity.
The reason I tease about the reputation War games have for being over-long, over-complex history lessons is because, well, they kind of are.  All games have a "theme", but war games fall dangerously close to putting "theme" before the underlying "game".   The kinds of war games that I am primarily thinking of here are games that model specific historical battles and wars (a category that the vast majority of war games will fall into).  Ideally these games would also be fun to play, but a large part of their reason for existence is to provide an accurate recreation of that battle or war.  So, what is the appeal?  Are war games just "history lessons"?  Do they warrant the amount of time necessary to learn the rules and actually play through them?  Why do I go to such great lengths to trick, coerce, bribe and beg my friends to play stuff like Advanced Squad Leader when I have plenty of awesome non-war games that they would be much more willing to play?
First (and probably most importantly), playing a war game has all the satisfaction of those childhood "war games" we all used to play as kids.  "Sneak through the woods to flank the tree house defenders", "lay down some snowball suppressing fire", "charge the strong point"; these are all universal concepts (though the terminology might be different) in many childhood games (and are the same things that army recruiters use to trick impressionable high school kids into joining up).  Playing a war game offers all the same tactical thrills without having to go play in the neighbor kid's tree house.
I love looking at an overhead map during a game of ASL and trying to decide what the best way to take the observation post at the center of the village would be.  Should I sneak through the forest to the north of the village even though it will slow me down, move from house to house on the east even though the open ground in between is problematic, or should I wait for my armored reinforcements to support my attack.  The narrative the detailed maps and specific counters provide creates a much more interesting experience than an abstract game like chess (which I suppose could potentially be called a "war" game itself).  I can only speak for myself, but I would much rather "trick a king tiger tank into crossing that wall and getting belly shot by my sewer moving hero with a bazooka" than I would "trick my opponent into losing his queen".
Of course, in order to be able to move through sewers and shoot tanks in the weak under armor as they cross walls, there need to be rules to support that.  You can teach someone chess in 5 minutes, but I've been playing ASL for a few years now and just barely have a handle on the rules.  So this is the trade off you make with the great thematic "flavor" of war games.  ASL might be the extreme end of things complexity wise, but even relatively simple war games like Hannibal: Rome VS Carthage and Rommel in the Desert have far more daunting rulebooks than most other non-war games will have.
Everyone will have their tolerance for how many purely thematic (or as the gamers call them, "chrome") rules  a rule set can have before the game becomes a chore to play.  But honestly, if I play a game about Hannibal, I appreciate seeing rules for crossing the alps with elephants.  Or when I play a game about the WW2 desert war in North Africa, rules for cutting supply lines should expected, not an annoyance.  This is really where the focus on theme for war games begins to make sense.  These games model a historical event and will appeal to anyone with an interest in that historical event.  They are kind of like a combination of a board game and a history lesson (which I realize probably sounds pretty lame, but bear with me here).
There is a bit more to it than that though.  War games don't just teach history, they give you the chance to change it.  History is fascinating when looked at with hindsight, and war games offer one of the only opportunities to apply that hindsight and see how well YOU could do.  Anyone who has read about Operation Market Garden has wondered what would have happened if the drop zones had been located closer to the Arnhem bridge.  With a game like The Devil's Cauldron (a detailed recreation of the operation) you can actually take the role of Montgomery and try it for yourself.
Visceral tactical thrills, detailed historical information and the ability to play "armchair general", these are some of the main reasons people play war games.  How many rules you are willing to suffer before it all gets to be too much to still call "fun" is what determines where you will stop in the progression from Risk to Advanced Squad Leader.  Even I kind of suspect that ASL might take things a bit too far…the rulebook gets heavier and heavier with wasted hours of my life every time I get it out.  On the other hand, in ASL you can totally shoot a tank in the belly with a bazooka from the sewer when it crests a wall…how sweet is that?!