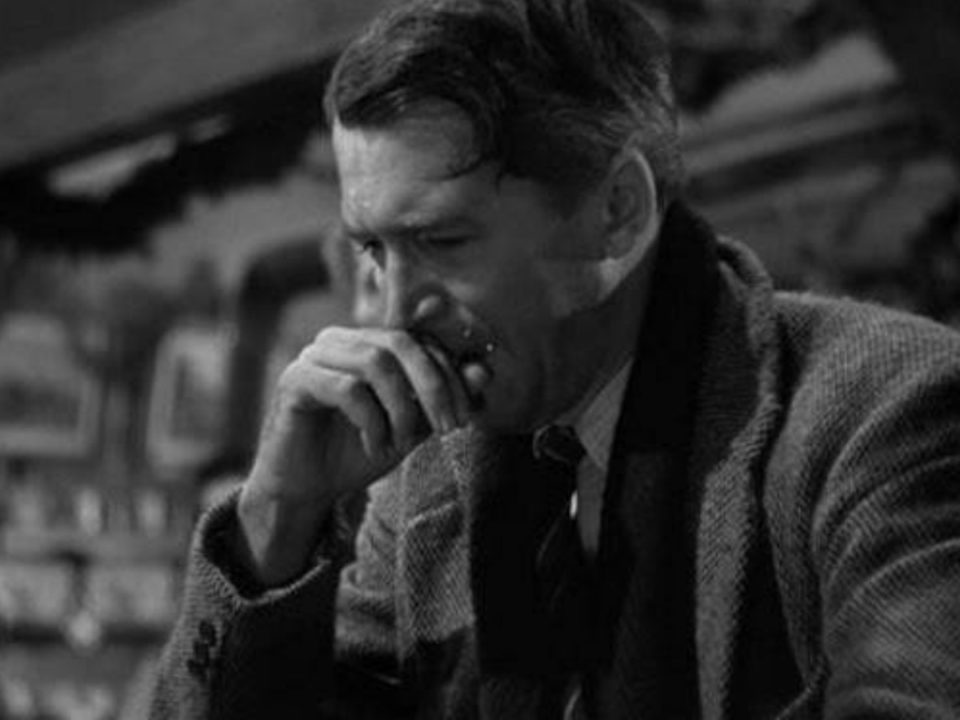 I wasn't sure whether to write a "My Favorite Christmas Movies" post, a "My Favorite Christmas Movie" post or just a "Christmas Movies" post.  Finally I realized that I really just wanted to write about It's a Wonderful Life, and since there was no point in needlessly qualifying it, I might as well give it a full "My Favorite Movie" treatment.
I played an anarchist for my voting post, a fascist for my Fort Apache post, I'll go ahead and play the sentimentalist here…it's the Christmas season after all!  So while I might normally pretend to worship death and all that is unholy, I'll go ahead and own up to loving It's a Wonderful Life.  The movie is just that good.
There are few movies that hold up to repeat viewings quite so well as It's a Wonderful Life.  I mean, I've been watching this movie every Christmas for as long as I can remember and I never fail to get sucked right back in as soon as it starts.  Like My Darling Clementine, Casablanca, Red River and other such superlative examples of the peak of American Hollywood cinema, It's a Wonderful Life is full of scenes that stick with you long after the movie is over, waiting to return like an old friend with each repeat viewing.  Throwing rocks at the old house, the phone call kiss, the bank run, the meltdown, the list could go on and on, It's a Wonderful Life is just pure cinema.
However, no truly great movie is merely a collection of great scenes (no matter what Howard Hawks said on the subject), the real power of It's a Wonderful Life goes far deeper.  Capra has pulled off a seemingly impossible task here in making what should by all rights be a corny, moralizing cheesefest into a powerful film that avoids every pitfall and snare that by all rights should have hamstrung a movie like this from the start.
The fact that Frank Capra directed this film makes it even more amazing since before he made It's a Wonderful Life, he was coming off of the cheesefests (not counting the dark edged (though uneven) Arsenic and Old Lace): Meet John Doe (good till he ruins it), Mr. Smith Goes to Washington (a cheesefest, but I still love it) and You Can't Take it With You (bile inducing).  Capra was always capable of making great films (It Happened One Night is another favorite of mine and Mr. Deeds Goes to Town is also awesome), but it seemed that as his career went on the heavy handed moralizing and corniness all started to get laid on a bit thick.
So why did It's a Wonderful Life work so well?  It is after all the story of (spoiler alert) a man who just tries to do the right thing his whole life until he loses faith and a fucking ANGEL comes down to show him the value of living a life to help others.  I think it works because Capra doesn't try to candy coat things.  In his earlier movies he would drive his point home until it hurt (or at least until you caught yourself rolling your eyes) abandoning realism for heavy handed scenes of his "do no wrong" protagonist showing everyone the right way to live till you just want to punch him.  It's a Wonderful Life still ends happily ever after with the "good man" winning, but it is a much more realistic movie, even a somewhat dark movie.
It was this "darkness" that helped It's a Wonderful Life win the "Kumite" I had last year in this blog, and I really think it is part of what makes this movie such a masterpiece.   For all its "feel-good" reputation, this was the movie that showed Jimmy Stewart could have a dark edge (something his later directors like Mann and Hitchcock capitalized on).  Scratch beneath the surface and there is the feeling that while George Bailey wins in the end, it was touch and go there for a while and that is just the way it will always be taking his road.
Nobody can make the kind of decisions George Bailey makes without regrets.  As the film starts he has his whole life planned out and with each setback, each disaster that only he can fix, you see his hopes and dreams slowly fading away.  He doesn't get to travel, he doesn't go to college, he finds himself stuck in a business he never intended to be in and the whole time the world never seems to let up.
It's no wonder he ends up having a meltdown, he has had a lifetime of resentment and frustration pushed beneath the surface in the name of "doing the right thing".  It would make anyone question whether it was worth it.  In the end, George Bailey discovers that it was in fact worth it and you know what?  I don't care if it's a sappy message, but George Bailey did have a good life, and no matter who gets him to realize that (angels included).
So many people hang on to their regrets, their preconceived notions of what success means to them, their hopes and dreams of what will truly make them happy without ever stopping to examine their current lives, to reevaluate their expectations with the hindsight of experience.  Success can only truly be measured in one's own eyes, and by the end of It's a Wonderful Life, George Bailey discovers he wouldn't trade places with all the Sam Wainwrights and Harry Baileys in the world.
This is a movie about seeing past one's expectations.  It is a movie about the value of friends, family and human closeness.  And most of all it is a movie about George Bailey (no paper doll representative of some idealized form of humanity, but a real person) opening his eyes and seeing his life for what it truly was: Wonderful.