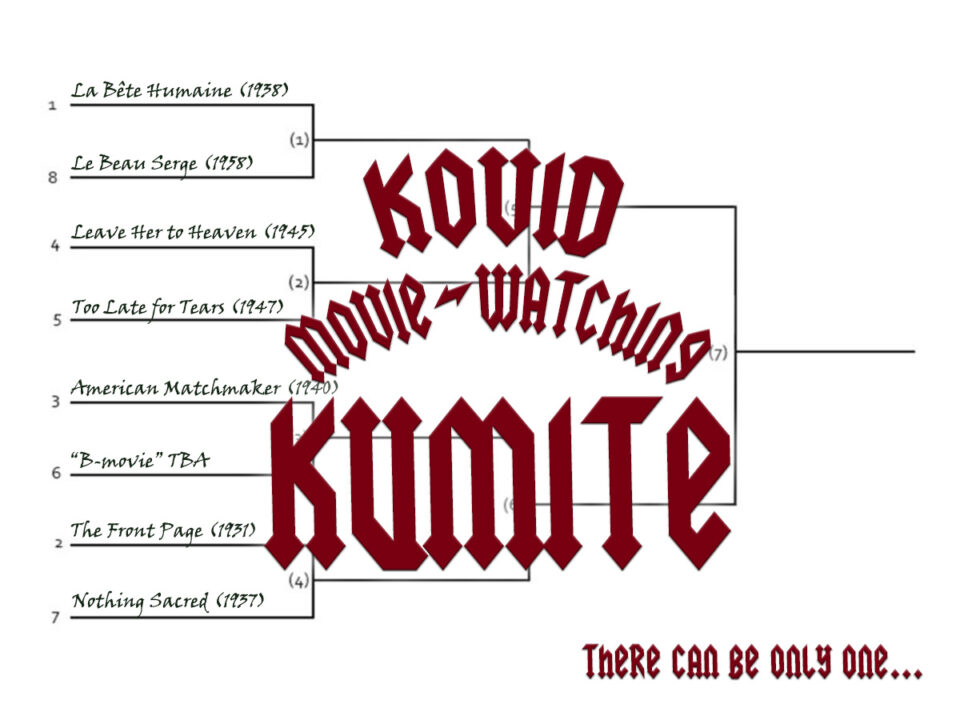 15 years ago, after heading back home to hang with the family over Christmas, I decided to have all the random movies I watched over break BATTLE TO THE DEATH in a brutal tournament to see which movie was the best. There was even a sequel! Fast forward to the present day and I don't have nearly as much movie watching time as I used to (what with all the real jobs and kids floating around). Or, at least, I didn't–until I finally got Covid after a few years of fighting the good fight. 5 days of quarantining in an upstairs bedroom later (until my whole family ended up getting the vid anyway) and I realized I had enough movies under my belt to revisit the movie-watching Kumite for 2022!
So, once again, the movies are matched up by plot/theme and then move on to battle it out for cinematic supremacy. The only changes this time around are that all the movies needed to be new to me (so look for a lot of deep cuts…), and I ended up toning down the celluloid personification of the battle scenes (a lot of the "moves" last time felt like a bit of a stretch). Will the Yiddish Fred Astaire go all the way? Probably not, but you never know in the KOVID KUMITE!
PRELIMINARY ROUNDS
DISQUALIFICATION
The Red House (1947)
The tournament started this year with a bit of drama when The Red House swaggered in, leering with sinister confidence. However, by the time it reached the dreadfully distressing denouement (seriously, that shit will stick with you) it was discovered, that, even though I was only 10 years old the last time I saw this movie, NONE of it was forgotten, and thus it was disqualified on the grounds of "already seen it." It was replaced in the tournament by the even more over the top Leave Her to Heaven.
B-Movie Duke-em-up
Riders of Destiny (1933) VS Born to the West (1937)
Before the tournament could start proper, we had a single eliminator match to qualify for the B-movie bracket. Two "pre-Stagecoach" John Wayne westerns faced off, with the heavily favored Born to the West (aka HELL TOWN) leading in all pre match betting.
However, while Wayne put in a good performance for Born to the West, his character was too much of a doofus (trying to steal his cousin's girl, playing poker poorly, and just generally being rather dislikeably stupid) to win the movie many points on the judges' scorecards.
Riders of Destiny on the other hand, Wayne's first Monogram western (and first pairing with director Robert N. Bradbury) was just good old fashioned big-hatted fun. Yakima Canute was doing ridiculous shit, Al St. John showed up as comic relief, the location cinematography was gorgeous, and the classic storyline of a bad guy squeezing the landowners out of their land felt more archetypical than it did derivative.
Riders of Destiny won an easy victory and advanced to the first round despite some in the audience muttering that "that's not how blowing up wells works…"
ROUND ONE
Two French Downbeat Dramas about the Dangers of Alcoholism
La Bête Humaine (1938) VS Le Beau Serge (1958)
Being the second greatest movie from France's greatest director didn't exactly make La Bête Humaine any friends in a tournament of "deep cuts." Accusations of being a "ringer" were whispered throughout the match, and Gabin at his laconic best, Simone Simon looking damn good, and a lot of sweet train shit made the win here all but assured despite the plot feeling a bit flimsy ("oh, he is randomly compelled to murder people I guess.")
Le Beau Serge, arguably the first French New Wave film from France's second most pessimistic director put up a good fight however. The location photography in a provincial French shithole along with a portrayal of the locals barely on the right side of contempt almost made the film feel like a new wave Gummo. Unfortunately, Chabrol found the urge to overdo the catholic symbolism irresistible, and the movie suffered for it (though I maintain the ending was ambiguous enough to make it work anyway). The stink of neorealism, which was not over with the local audience did not help either.
La Bête Humaine won, proving the student Chabrol wasn't quite up to beating the master at this point in his career (Le Boucher watching from the audience and taking notes on La Bête Humaine's weaknesses seemed up to the task at a later date).
Nasty Women Square Off in Two Generically Titled Movies
Leave Her for Heaven (1945) VS Too Late for Tears (1947)
Duryea is always a delight, and Lizabeth Scott (aka, "we got Lauren Bacall at home") was up to the unenviable task of "yeah, but I'm a bigger stinker than Duryea in this movie" in this unusual film noir. Expertly plotted, with some real nasty twists and turns, this minor noir was definitely up for a fight.
Unfortunately it was up against a movie that pulled out ALL the stops when it came to ridiculous melodrama. I'm talking murdering cripples, beyond the grave frameups, and basically just a fantastic Gene Tierney being the nastiest piece of work this side of Detour. Add in the gorgeous color cinematography, and Too Late for Tears had nowhere to go but the loser's bracket.
Leave her for Heaven won a clean victory despite rumors of unsafe weight cutting to drop down to Too Late for Tears' weight class.
Singing Heroes Shoot it Out for B-movie Supremacy
Riders of Destiny (1933) VS American Matchmaker (1940)
Edward G. Ulmer has done masterful work, but this first exposure to his Yiddish period left the audience underwhelmed. Leo Fuchs actually had some charisma, but the story was so uneventful (and much of the supporting cast so annoying) that this was a chore to get through. The love interest was decent but otherwise this did not leave the audience chomping at the bit to check out more of Ulmer's Yiddish work.
If Fuchs had some charisma, it was nothing compared to John Wayne, even at 26 years old. Add in the fact that shit actually HAPPENED in Riders of Destiny, and American Matchmaker quickly realized that it was no match for THE DUKE, no matter how early in his career. There was a bit of grumbling from the audience that there was no way the singing cowboy was actually John Wayne's voice, but there was no denying which was the superior movie.
Riders of Destiny wins via main street shootout.
Ben Hecht Buries the Media as Two 1930s Classics Try to Out-cynic Each Other
The Front Page (1931) VS Nothing Sacred (1937)
Considering His Girl Friday's undefeated streak in every Kumite it had entered for the past 80 years, The Front Page had a lot of road ahead of it to stand on its own two feet. And, its ridiculous pre-code cynicism, coupled with a great performance from Menjou almost made this a fight. Unfortunately Milestone's over-direction, and a game but shruggable performance from O'Brien made this a fairly one-sided fight.
The Front Page might have (arguably) been more cynical, but let's not count out Nothing Sacred on the "ooooooof" front. March and Lombard do great work, and the portrait of American small towns as hell-scapes full of feral children was both hilarious and accurate.
Nothing Sacred won, both as a film and as an indictment of the media, which is saying something considering what The Front Page has to say about the media.
SEMIFINALS
Two Murderous Melodramas Match Up to Head to the Finals
La Bête Humaine (1938) VS Leave Her to Heaven (1945)
The relatively unknown Leave Her to Heaven was the underdog heading into this semifinal match, but the rumblings from the audience suggested that the French stalwart was having trouble managing its rather light plotting.
Every masterful sequence of trains doing train shit was met by an over the top melodramatic sequence that, at the end of the day, made a bit more murderous sense–beyond a pseudoscientific understanding of how hereditary alcoholism works.
Leave Her to Heaven won an upset victory over a cocky La Bête Humaine
John Wayne and Carol Lombard go Head to Head for the First Time Ever
Riders of Destiny (1933) VS Nothing Sacred (1937)
Duke put up a good fight, but at the end of the day the B-list was the B-list, and was just unable to stand toe to toe with an A-list screwball comedy. Even the wrestling match in Nothing Sacred outdid the, in retrospect, superfluous Canute stagecoach stunt shenanigans.
Nothing Sacred won via an alphabetically higher categorization.
FINALS
Overlooked Hollywood Technicolor Marvels Battle for Supremacy
Nothing Sacred (1937) VS Leave Her to Heaven (1945)
Each film had its fan base and cheers of "Leave Her to Heaven…NOTHING SACRED" dueled throughout the match (along with "Fight forever" and "This is Awesome"). Ultimately the archetypal joys of a pure screwball comedy overpowered the more contrived melodrama of Leave her to Heaven as the crowd eventually got behind Nothing Sacred and saw the film through to a well-deserved victory in the KOVID Movie-watchin' Kumite!

We'll see everyone for the next pandemic!