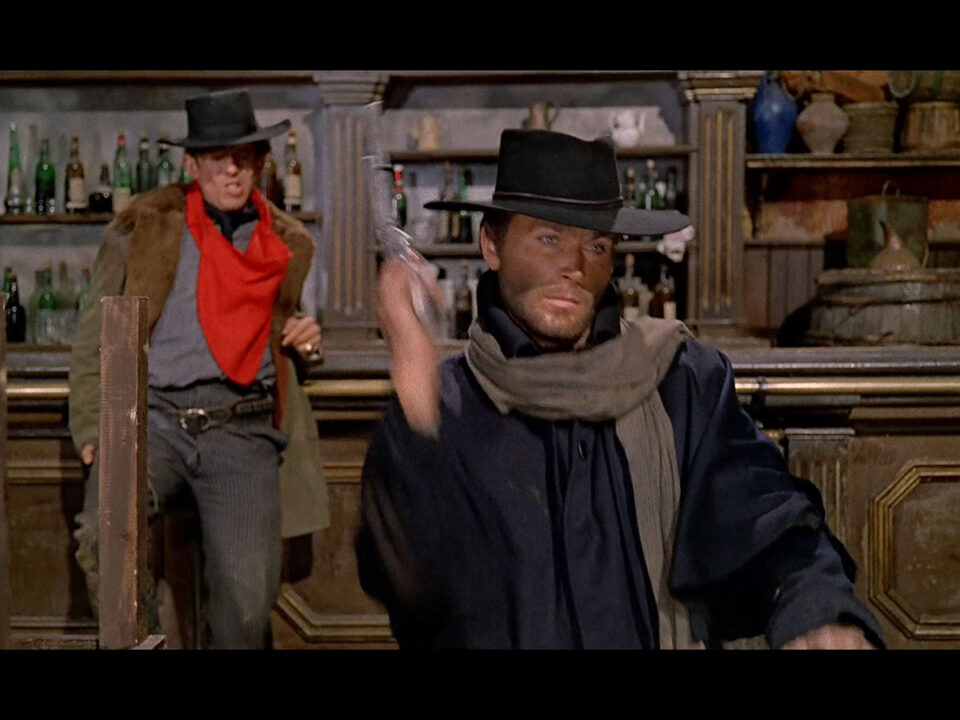 Spaghetti Westerns (Italian films from the 1960s and 70s set in the American West) are not my favorite Westerns. Ultraviolent, revisionist, grim affairs with nothing but bad towns and nihilistic worldviews, they are a far cry from the kind of idealized white hat mythmaking that drew me to the genre in the first place. On the OTHER hand, I also love dudes being toxic macho badasses, so the Spaghetti Western genre isn't entirely lost to me.
They might be obvious choices, but the four big Leone movies are the best of the genre, after that it's directors aping Leone's style successfully, and those that ape it unsuccessfully. Sergio Corbucci is in the former camp, but he also pushed the bounds of over-the-top cartoonish ridiculousness as close to the breaking point as possible, making him, for some, the more interesting director of outsider American mythmaking.
Django, the character IS pretty cartoonish. He wanders through the desert pulling a goddamn coffin with no wheels behind him, and as far as quick draw powers and abilities, he'd probably be top pick if you were choosing a team of cinematic gunfighters. Even Franco Nero's face is ridiculous, with the Platonic form of a square jaw, ridiculously blue eyes, and the coolest demeanor this side of, well, Clint Eastwood. He can shoot down five men at once, or 50 if you give him a gatling gun, or one if he pulls off a no look behind the back shot (pictured above). He'll get the girl, but never has to ask for it, and he'll get the bad guy only when he decides the time is right.
The plot is just Yojimbo/For a Fistfull of Dollars all over again, with a bunch of weird heists and racists vs Mexicans added for fun. Not that any of it really matters, as long as it is understood that Django pulls a coffin behind him, is supernaturally badass, and will be able to win in the end EVEN when working against the typical Corbucci fascination with sadistically maiming your main character via an unnecessarily long sequence.
Corbucci had no room for subtlety, and the extremes of Django are half the fun. The town has to be the most dejected, filthy bit of squalor in Western history, and Django walks through it all like an otherworldly force of hatred. Barely a hero (a trope of the genre is to only shoot down all the bad guys AFTER watching the woman you are saving get viciously whipped), barely even human, but entirely enjoyable on a "yes, fine, that was indeed badass" kind of way.
Oh, and there is no Morricone on the soundtrack, but the film has an all-timer of a theme song anyway:
Django!